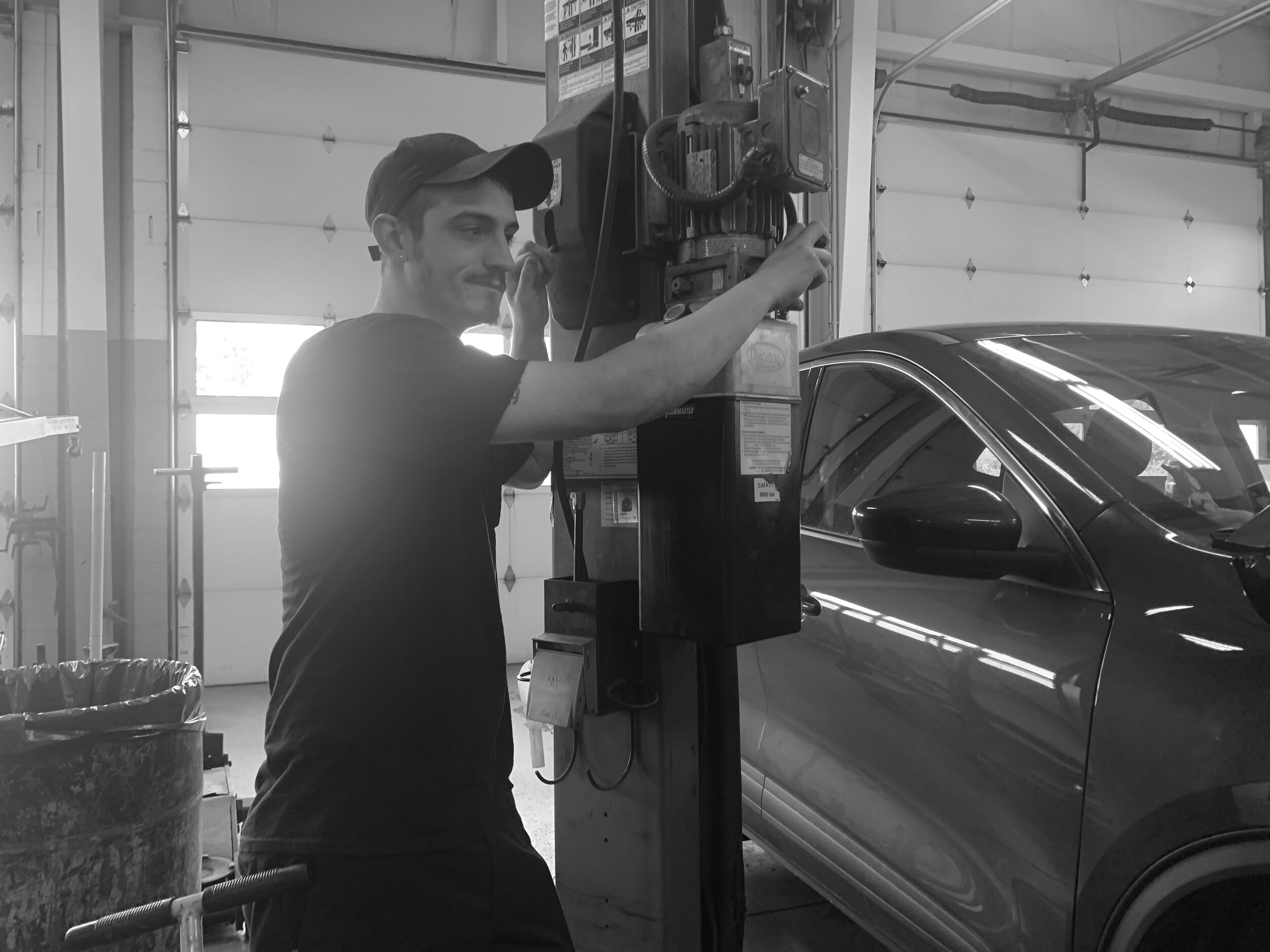 When you buy or lease from Apple Ford of Red Lion, it's our absolute pleasure to provide you with top-of-the-line auto-repair services for your vehicle. We offer various service coupons designed to make automotive maintenance affordable. Our dealership in Red Lion, Pennsylvania, is equipped with a Ford Quick Lane Tire & Auto Center, where customers can bring their vehicles in for routine services like oil changes and multipoint vehicle inspections, and our collision center, where technicians repair vehicles damaged in wrecks. Whatever service you're looking for, our team at Apple Ford of Red Lion is prepared and ready to help.
Why Choose Apple Ford of Red Lion for Service?
When your vehicle is in need of service, it can be tempting to opt for a third-party auto repair or service center rather than going to your dealer, usually because of misinformation about the cost. When you get your vehicle serviced at a Ford-certified dealership, you can be 100% sure that you're getting top-quality service and attention to detail from technicians with specific factory training in Ford vehicles. We offer a selection of service coupons throughout the year that allow customers to choose from different specials to make their vehicle maintenance more affordable.
All of our technicians use original equipment manufacturer (OEM) parts that guarantee your vehicle is functioning just how the manufacturer designed it. Over the years, auto manufacturers have made their batteries more and more specific to their brands. That's why it's more important than ever to have a qualified technician working on your vehicle's battery to ensure it performs optimally. When you bring your vehicle in for service at Apple Ford, you have access to a comfortable waiting area equipped with complimentary Wi-Fi, bottled water, coffee, tea, and a shuttle service that can transport you wherever you need to go. 
Oil Change Service
When your Ford vehicle requires an oil change, there's no better place to go than your local dealership, Apple Ford of Red Lion, for top-of-the-line service. For your Ford to run at its highest capacity, it's important that you consistently replace its oil. Typically, vehicles need an oil replacement after every several thousand miles or every few months, so it's especially important for frequent travelers to get their oil serviced regularly. We offer discounts throughout the year on different oil types to make sure all of our customers have access to the best product for their vehicles. 
Our Ford Quick Lane Tire & Auto Center makes it easier than ever to get your oil changed on short notice. Simply show up during our regular business hours and help yourself to our various complimentary amenities until the service is complete. You can also take the time that your vehicle is being serviced to speak to one of our service advisors and learn about your different maintenance or service offers. If you want to bring your Ford in for consistent oil maintenance regularly, like every six months, you can make appointments in advance using our online service scheduling tool.
Brake Service
A vehicle's brakes represent one of the most complex automotive systems. Every time you press down on your brake pedal, you're instructing your vehicle to slow down or come to a stop, so inconsistencies in this system can have dangerous consequences for the machine, its passengers, and other vehicles on the road. At Apple Ford of Red Lion, our expert technicians have all the necessary training and skills to repair faulty brake systems and ensure you can drive off our lot in a safe and dependable vehicle. We recommend brake inspections every 6,000 miles, or roughly every six months.
Some of the telltale signs your vehicle is in need of brake maintenance include squeaking when braking, resistance when braking, drifting while braking, or the appearance of Anti-Lock Brake System (ABS) warning lights on your dashboard. As part of our comprehensive brake inspection, a factory-trained Ford technician will check your vehicle for fluid leaks, wear and tear, brake fluid levels, and inconsistencies in your anti-lock brake sensors. Check our service specials, where we offer rotating discounts and complimentary maintenance services, including brake inspection and repair. These services are also available through our Quick Lane Tire & Auto Center.
Battery Service
Your vehicle's battery is its lifeline, making it one of the most important parts of regular vehicle maintenance. An automotive battery can last anywhere from three to five years, depending on the frequency of use by the driver. The batteries we use in vehicles today are increasingly technological and require technicians to be familiar with how they operate for optimal installation and function. This is why it's always in your best interest as a Ford client to bring your vehicle in to your local Apple Ford of Red Lion whenever it needs battery inspection and repair. 
Not sure what warrants a battery replacement? Some of the most common signs of a decaying battery include a loud, hesitant crank when you start your engine, a sulfur-like odor, or the appearance of a check engine or battery light on your dashboard. Our qualified staff at Apple Ford of Red Lion can offer you a complimentary computerized battery test, in which they measure your battery's performance abilities and determine the best course of action. We also have plenty of coupons and specials throughout the year that help our customers save on batteries designed specifically for their Ford vehicles. 
With so many clear benefits, it's easy to understand why our clients repeatedly choose to bring their vehicles to our dealership for regular maintenance and service. Our abundance of discounts, specials, and complimentary services make it easy and affordable to give your vehicle top-of-the-line service. All of our technicians are factory-trained and certified to work specifically with Ford models, parts, and computerized systems. Feel free to contact us at Apple Ford of Red Lion to learn more about our service center, coupons, and specials, or speak to one of our expert service advisers to discuss options and pricing for you.
Hours
Monday

7am-6pm

Tuesday

7am-6pm

Wednesday

7am-6pm

Thursday

7am-6pm

Friday

7am-6pm

Saturday

7am-2pm

Sunday

Closed